Disney Infinity 3.0 | Hall of Heroes
Responsibilities
Role: Level Architect
Level design, layout, event scripting, and some texture work
Optimization and bug fixing
Easter egg design and implementation
Achievement scripting
Development Info
Team Size: 300+
Genre: Action Adventure, Sandbox
Engine: Proprietary
Release Date:

August 30, 2015
Design Challenges
Design Crossroads: New technology, sounds, and design techniques all went in to making the Hall of Galactic Heroes the success it is--and I was responsible for putting it all together and making sure it worked seamlessly.
True to the Films: Keeping close contact with Lucasfilm and having what seemed like hundreds of reference images and videos were integral in creating one of the most iconic scenes in the Star Wars movies, the Medal Ceremony on Yavin IV. My goal was to make the player feel like a returning hero being recognized for their achievements while finding places to display their achievements as players in an unobtrusive way.
New, Yet Familiar: I strove to incorporate both design philosophies of the Hall of Heroes (the Disney/Pixar avatars) from Infinity 1.0 and 2.0 to unify the varying styles. Similar columns from the 2.0 area wrap fully around in the 3.0 area, reminiscent of the full coliseum in the 1.0 Hall of Heroes. My goal was to draw players into a familiar sensation while exploring a new area, to encourage them to explore and build out their collections.
Game Summary
Disney Infinity is an action-adventure game with physical toys, open world creation and story-driven gameplay. Characters, playsets and other features are brought into the game using figurines and discs with the included Infinity Base. There are two main modes in this game: Play Set and Toy Box. Each playset is essentially a self-contained world with its own gameplay, based on a specific film or series with recognizable characters and storylines. Characters from one world cannot enter into another world, but players can put any characters together in Toy Box mode. Toy Box is a sandbox mode that players can fully customize and explore.
My Role
As the main Architect on the three Halls of Heroes, I had many hats that I had to be able to swap between at a moment's notice. Each hall had a different objective for me and required a different mindset to solve their unique challenges.
Hall of Galactic Heroes:
Designed and blocked out entire zone
Implemented event scripting and designed new systems for ship display
Easter Egg: Blockheads scatter and reform into proper locations
Planned multiple expansion areas
Interfaced with Lucas personnel for feedback and consultation purposes
Hall of Heroes 3.0:
Designed and blocked out new area for Infinity 3.0 statues, discs, and more
Repurposed already completed assets for new uses
Implemented event scripting and interfaced with programming team in a problem solving setting
Optimized old geometry and collision for all areas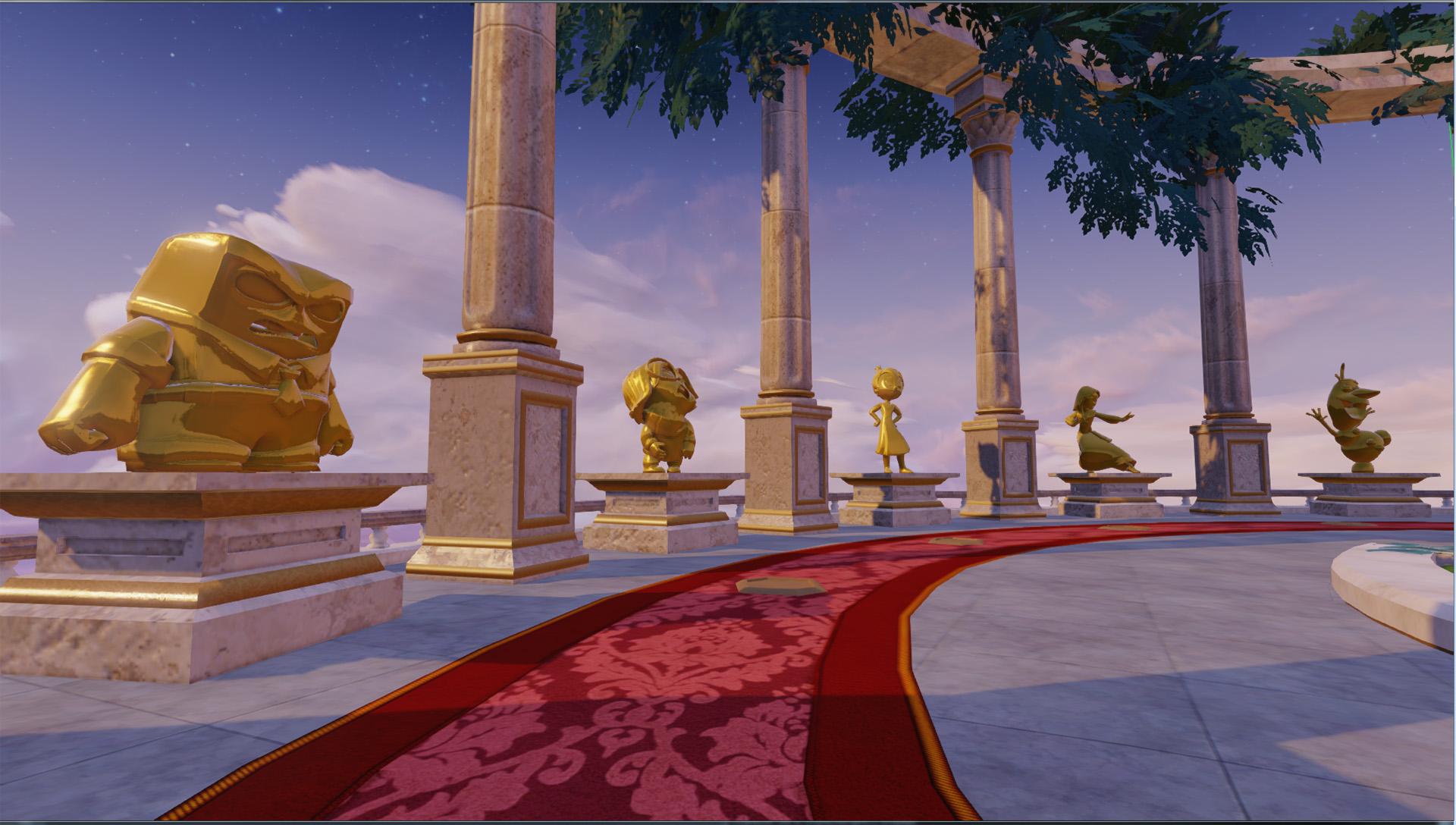 Hall of Super Heroes 3.0:
Prototyped new placements of old and new statues
Planned multiple alternate areas for future expansions/releases
Implemented event scripting and worked with multiple teams to address tech issues
Optimized collision and implemented easter eggs